Airbnb has always been a staple for budget-friendly, off-the-beaten-path accommodations. But did you know that this platform also offers a range of extravagant, luxury bedroom experiences that are beyond the realm of ordinary? These indulgent sanctuaries provide lavish comforts that can rival, and sometimes even surpass, five-star hotels.
Creating a Bedroom Oasis: Little Luxuries Matter
Luxury is about those little details that make a place feel warm, inviting, and yes, a little fancy. It's about exceptional quality, personalized touches, and creating a sense of indulgence. In the realm of Airbnb, that includes high-quality bedding, tasteful decor, and amenities that guests can't find just anywhere.
Imagine slipping into crisp, Egyptian cotton sheets with a 1000 thread count, followed by wrapping yourself in a plush, warm duvet. As the evening falls, imagine a gentle aroma of lavender wafting from the essential oil diffuser by the bedside, creating an ambience for relaxation.
Sound dreamy?
It absolutely is. Luxury lies in providing such extraordinary experiences. Attention to detail matters here – from a choice of down or hypoallergenic pillows to ensure a restful night's sleep, to dimmable lights for setting the perfect mood.
The Opulence of Space: Less is More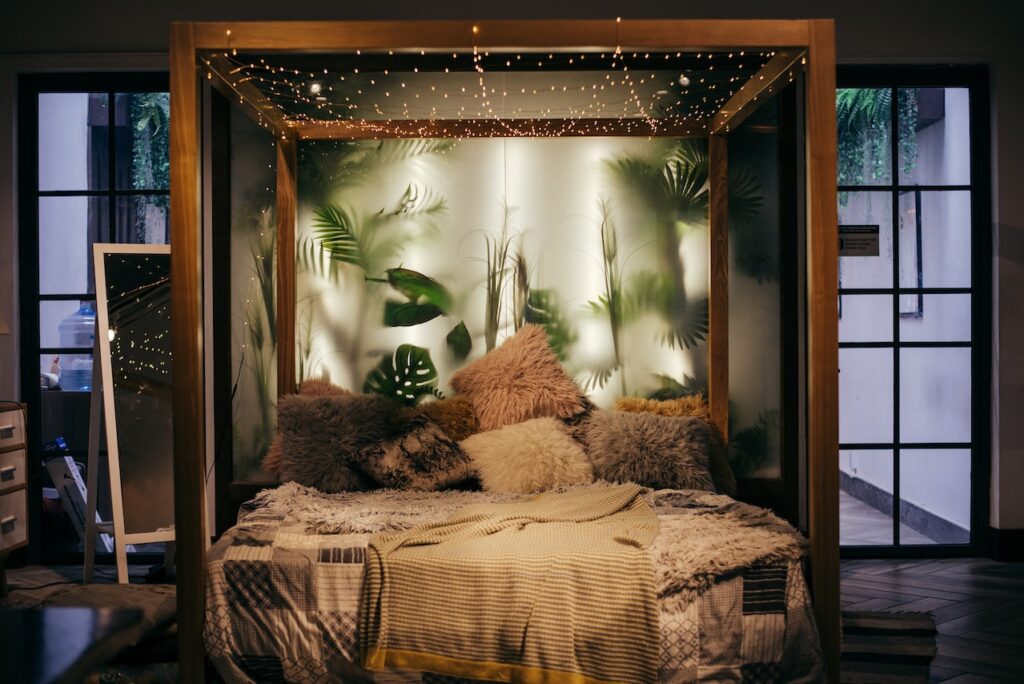 It's a common misconception that luxury equates to cluttering space with expensive things. Luxury, in essence, is all about creating a sense of spaciousness. Remember, less is more when it comes to making a space feel roomy and luxurious.
High-quality furniture that offers comfort, elegance, and functionality is a must-have. Avoid over-furnishing to ensure that guests have plenty of room to move about. Neutral tones and minimalist designs can further enhance the perception of space, while also creating a calming environment.
Curating Unique Experiences
When it comes to luxury, it's not just about high-end material comforts. It's equally about the unique experiences that guests can cherish. From arranging exclusive local tours to offering a personal concierge service, there's a whole world of possibilities that can be explored.
Perhaps it's a private wine tasting event from a renowned local winery or a cooking lesson with a celebrated local chef. Or maybe it's the offer of a private yoga session at sunrise or a bespoke spa kit for a DIY pampering night. When guests feel catered to and cared for in unique, personalized ways, the perception of luxury soars.
The Importance of High-End Amenities
Nothing screams luxury quite like high-end amenities. Think about bathroom essentials such as soft, fluffy towels, high-end soaps, and shampoos or a Nespresso machine in the kitchen for a perfect morning coffee. A sound system that allows guests to play their own music or a smart TV for a cozy movie night also elevates the stay.
Striking the Perfect Balance
Crafting a luxurious Airbnb bedroom is all about striking the right balance. It's about blending the warmth and coziness of a home with the refinement of a luxury hotel. It's about offering opulence without overwhelming guests, and it's about adding personalized touches without infringing on their privacy.
The Power of Technology: Not Just a Gimmick
In the digital age, embedding technology to enhance the user experience is an increasingly crucial part of luxury. Integrated smart home systems, such as voice-controlled assistants, automated blinds, or interactive mirrors, offer an element of futuristic luxury. On-demand streaming services, high-speed Wi-Fi, and charging stations for electronics are no longer extras but expected necessities. It's not just about the novelty of it, but the added convenience it brings to a guest's stay.
Infusing Local Flavor: Luxury with a Sense of Place
Luxury is not solely about global brands and generic opulence. In fact, successful luxury Airbnb hosts understand the value of integrating local elements into their spaces. Local artwork adorning the walls, regionally sourced coffee and tea in the kitchen, local guidebooks, and curated lists of neighborhood favorites — these are all ways to infuse a sense of place, making guests feel more connected to their temporary home.
Service Above All: The Luxury of Personalized Attention
In the realm of Airbnb, it's easy to forget that this platform is rooted in hospitality. At the core of luxury, service stands paramount. Ensuring guests are well-cared for and their needs met promptly is non-negotiable. Offering services such as flexible check-in and check-out times, swift responses to queries, and personalized recommendations can significantly enhance the guest experience.
Sustainability: The New Luxury
Sustainability has become an inextricable part of the luxury experience. For environmentally conscious guests, features such as energy-efficient appliances, eco-friendly toiletries, and recycling systems can add a touch of luxury. Offering locally sourced, organic breakfast ingredients or providing bicycles for local transportation are creative ways to appeal to the eco-friendly luxury traveler. After all, luxury doesn't need to come at the expense of the planet.
What is a luxe Airbnb?
Moving beyond the realm of typical home rentals, Luxe Airbnb offers a highly curated selection of the world's most magnificent homes, with luxury amenities, services, and a dedicated trip designer for each booking. This service caters to guests who desire more than just a place to stay – they seek an experience steeped in extravagance and personalized service.
A Luxe Airbnb property is not just a home, it's a spectacle. These properties range from villas on private islands to grand country estates to chic city apartments in the world's most desirable locations. Every Luxe property is vetted for its design, location, and the quality of amenities and services offered. Only those that meet the highest standards are included in the Luxe portfolio.
So, when you're staying at a Luxe Airbnb, you're not just getting a place with four walls and a roof. You're getting an experience designed to pamper, impress, and provide the utmost in comfort and convenience. Whether it's a personal chef, airport transfer, or bespoke activities, Luxe properties ensure that every aspect of your stay is nothing short of extraordinary.
To put it simply, hosting a luxury Airbnb is an art. An art of creating memorable experiences and offering unparalleled comfort. Because at the end of the day, it's not just about the stay – it's about the story guests will tell about their stay.
With these tips in mind, who knows, that five-star review might be just around the corner.