If you're an Airbnb host or looking to furnish your rental property, selecting the right cookware that suits your guests' needs and preferences and meets your budget is important.
Choosing the best cookware for your Airbnb property doesn't have to be a daunting task. This article will help you choose the best pots and pans for Airbnb properties to keep your kitchen in top shape.
Here's a list of Airbnb bedroom essentials in case you are interested.
Factors to Consider When Choosing Cookware for Airbnb Properties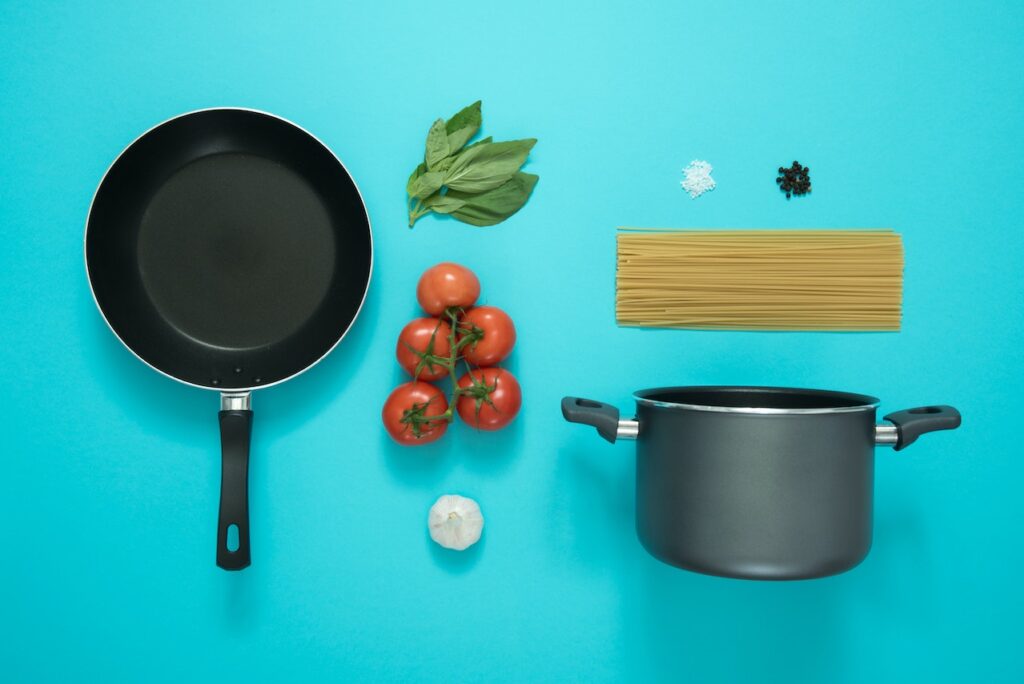 Durability
When choosing cookware for your Airbnb property, the first thing to consider is durability. Durable materials like stainless steel and cast iron are excellent choices for rental properties as they can withstand regular use without losing shape or damage.
Ease of Cleaning
Another important factor to consider is the ease of cleaning. Airbnb guests expect the kitchen to be cleaned and in top condition, so you'll want to choose cookware that can be easily wiped down and washed after each use. Non-stick and enameled cookware are popular choices as they don't require harsh scrubbing and can be washed easily by hand.
Price
When selecting cookware for Airbnb properties, it's also important to keep your budget in mind. While it can be tempting to buy the most expensive pots and pans, it's often unnecessary, and you can find good quality cookware at more affordable prices if you shop around.
Safety Features
Finally, it's important to make sure that the cookware is safe and free of any chemicals or toxins that could harm your guests. After, your guests' security should be your top priority.
Look for cookware sets made with materials like stainless steel and cast iron, which are non-toxic, and opt for non-stick pans free of PFOA and other potentially harmful chemicals.
Best Pots and Pans for Airbnb Properties
Cast Iron Skillet
Cast iron skillets are perfect for Airbnb homes as they're super durable and can last years if taken care of properly. They're great for searing meats and roasting vegetables and can be used for various recipes.
Non-stick Frying Pan
Non-stick frying pans are great for Airbnb properties as they're easy to clean and don't require any harsh scrubbing or special cleaning tools. They're also great for cooking eggs, pancakes, and other delicate dishes that may stick to metal cookware. Overall, Nonstick frying pans provide a versatile option that can withstand everyday use without needing too much maintenance.
Dutch Oven
Dutch ovens are perfect for slow cooking and one-pot meals. They're an excellent choice for Airbnb properties as they're incredibly versatile and can be used to make various dishes like stews, soups, roasts, and more.
Stainless Steel Cookware Set
Stainless steel cookware sets are a great choice for Airbnb properties as they're incredibly durable and can last for years if taken care of properly. These sets usually come with various pots and pans to suit a variety of recipes, so your guests will have everything they need to cook delicious meals.
Stainless steel tends to be easier to maintain, while it also conducts heat quickly and evenly when used correctly.
Ceramic Cookware Set
Ceramic cookware sets are a great choice for Airbnb properties as they're non-toxic, easy to clean, and don't require any special tools. Plus, they come in various colors and styles to find one that matches your property's aesthetic.
Best Cookware Brands for Airbnb:
Some good brands are:
• All-Clad
• Anolon
• Calphalon
• Cuisinart
• Le Creuset
• Greenlife
• Lodge Cast Iron
• Woll Diamond Plus
• T-Fal
Things to remember when choosing pots and pans for Airbnb:
Make sure to get enough pieces to cover your guests' needs. It's always better to have more than not enough.
Think about the type of cooking needs that your guests may have. Will they need to cook regular meals or just simple snacks? Do you want them to be able to bake as well? Depending on the dishes they'll be making, you may need different pots and pans.
Consider the size of the kitchen in your Airbnb property. This will help you determine how much space you have for storing and using pots and pans.
Look for sets that come with lids and multiple pieces. This will give your guests more options when it comes time to cook.
Consider using stainless steel or ceramic pots and pans, as they are more durable than other materials.
Finally, think about the budget and try to find pots and pans that are reasonably priced.
Conclusion
Ultimately, having quality cookware can make all the difference in a successful rental experience. To ensure an ideal experience for guests and take your hosting abilities to the next level, it's important to provide them with the best quality pots and pans so they can whip up a delicious meal in their kitchen.
Cast iron skillets, non-stick pans, stainless steel sets, and Dutch ovens are all excellent choices for rental properties as they can be used to create a wide array of recipes while being easy to clean and safe for your guests. With the right cookware set, you can keep your Airbnb kitchen in top shape and provide your guests with a great experience.
Happy cooking! 🙂