As an Airbnb host, creating an inviting and stylish space is crucial to attracting more guests and ensuring a memorable stay. Remodelling your rental property can breathe new life into it and elevate the overall guest experience. In this comprehensive guide, we'll explore top remodelling ideas that can transform your property from drab to fab, making it stand out among the competition and entice travellers to choose your Airbnb for their next stay.
Set the Stage with a Welcoming Entryway
First impressions matter, and the entryway is the first glimpse guests get of your Airbnb. Ensure it leaves a lasting positive impact with these remodelling ideas:
1. Stylish Front Door:
Consider upgrading your front door with a modern or eye-catching design that complements the property's aesthetic.
2. Well-Lit Pathway:
Install pathway lighting to guide guests to the entrance, especially for late arrivals.
3. Personalised Welcome Sign:
Add a personalised welcome sign or doormat to create a warm and inviting atmosphere.
The Heart of the Home: Enhance the Kitchen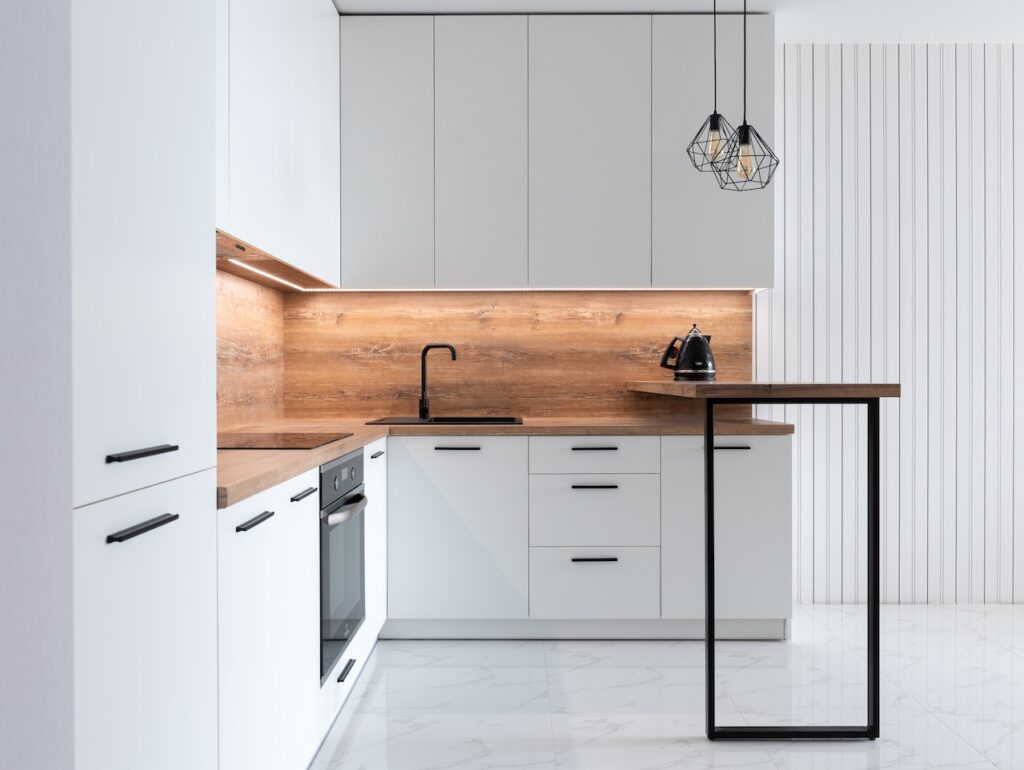 The kitchen is a focal point for guests, and a well-designed culinary space can elevate their experience:
1. Modern Appliances:
Upgrade to stainless steel or sleek appliances for a contemporary look.
2. Ample Storage:
Maximise storage space with efficient cabinetry and organisational solutions.
3. Stylish Backsplash:
Install a chic backsplash to add personality and flair to the kitchen.
4. Functional Layout:
Optimise the kitchen layout for ease of use and accessibility.
A Dreamy Bedroom Retreat
The bedroom is where guests unwind after a day of exploring. Create a relaxing retreat with these remodelling ideas:
1. Luxurious Bedding:
Invest in high-quality bedding and linens for a comfortable and indulgent sleep experience.
2. Accent Wall:
Add a statement wall with wallpaper or a bold paint colour to create a focal point.
3. Ample Lighting:
Ensure sufficient lighting with bedside lamps and overhead fixtures.
4. Clever Storage:
Incorporate clever storage solutions to keep the bedroom clutter-free.
Elevate the Bathroom Experience
A well-appointed bathroom can make a significant difference in the guest's overall satisfaction:
1. Spa-Like Amenities:
Offer spa-like amenities such as plush towels, high-quality toiletries, and a rainfall showerhead.
2. Modern Fixtures:
Update outdated fixtures with stylish and efficient options.
3. Elegant Mirrors:
Install elegant mirrors that add both functionality and aesthetics.
4. Thoughtful Lighting:
Opt for soft and flattering lighting that enhances the bathroom ambiance.
Unleash Creativity in the Living Areas
The living areas should exude comfort and style, encouraging guests to relax and socialise:
1. Cosy Furniture:
Choose comfortable and inviting furniture that complements the overall theme.
2. Art and Decor:
Decorate the living space with tasteful art and décor that reflect the local culture or theme.
3. Entertainment Center:
Provide a modern entertainment centre with a smart TV and streaming services.
4. Greenery:
Incorporate indoor plants or greenery to bring life and freshness to the living areas.
Embrace Outdoor Oasis
If your property has outdoor space, maximise its potential with these remodelling ideas:
1. Patio or Deck Makeover:
Revamp the outdoor seating area with comfortable furniture and colourful cushions.
2. Garden Paradise:
Create a charming garden space with vibrant flowers and plants.
3. Outdoor Dining:
Offer an outdoor dining area for al fresco meals.
4. Fire Pit or BBQ:
Install a fire pit or BBQ area for cosy evenings and enjoyable outdoor gatherings.
Tech-Savvy Amenities
Appeal to tech-savvy travellers by incorporating modern amenities into your Airbnb:
1. High-Speed Wi-Fi:
Provide fast and reliable internet access for work or leisure.
2. Smart Home Features:
Consider smart thermostats, keyless entry systems, and voice-activated assistants for convenience.
3. Charging Stations:
Install convenient charging stations for guests' devices.
The Power of Interior Design
Hiring a professional interior designer can elevate your Airbnb to the next level:
1. Tailored Design:
A designer can create a cohesive and tailored look for your property.
2. Local Touch:
Incorporate local elements and designs that resonate with the destination.
3. Space Optimization:
Designers can optimise space and make the most of your property's layout.
Sustainability and Eco-Friendly Features
Appeal to eco-conscious guests with green and sustainable practices:
1. Energy-Efficient Appliances:
Install energy-efficient appliances to reduce energy consumption.
2. Recycling Stations:
Set up recycling stations for guests to reduce waste.
3. Green Cleaning Products:
Use eco-friendly cleaning products to maintain a healthy environment.
Highlight Unique Features
If your property has unique features, make sure to showcase them:
1. Historical Charm:
Highlight any historical significance or unique architectural elements.
2. Views and Scenery:
Emphasise any breathtaking views or proximity to natural landmarks.
3. Niche Themes:
If your property has a unique theme, play it up in the décor and marketing.
Conclusion
Transforming your Airbnb from drab to fab with strategic remodelling can attract more guests and lead to higher guest satisfaction and positive reviews. By focusing on key areas such as the entryway, kitchen, bedroom, bathroom, living areas, and outdoor space, and incorporating thoughtful amenities and designs, you can create an inviting and memorable experience that will entice travellers to choose your Airbnb for their next stay. Remember, investing in your property's appearance and comfort can ultimately lead to increased bookings and a thriving vacation rental business.